I wanted to make something kind of theatrical to wear to my book signings to really put the audience in a spooky mood. Ideally, I would like to have made a late Victorian mourning outfit for that. Unfortunately, in order to do that up right, I would not only have to make the base gown, I would have to have all the proper underpinnings for it. Realistically, I don't have enough free time to have all that finished by mid-August, so I went with Plan B - Simplicity's 2207, a lovely Steampunk outfit with a very late 1880s/early 1890s feel to it.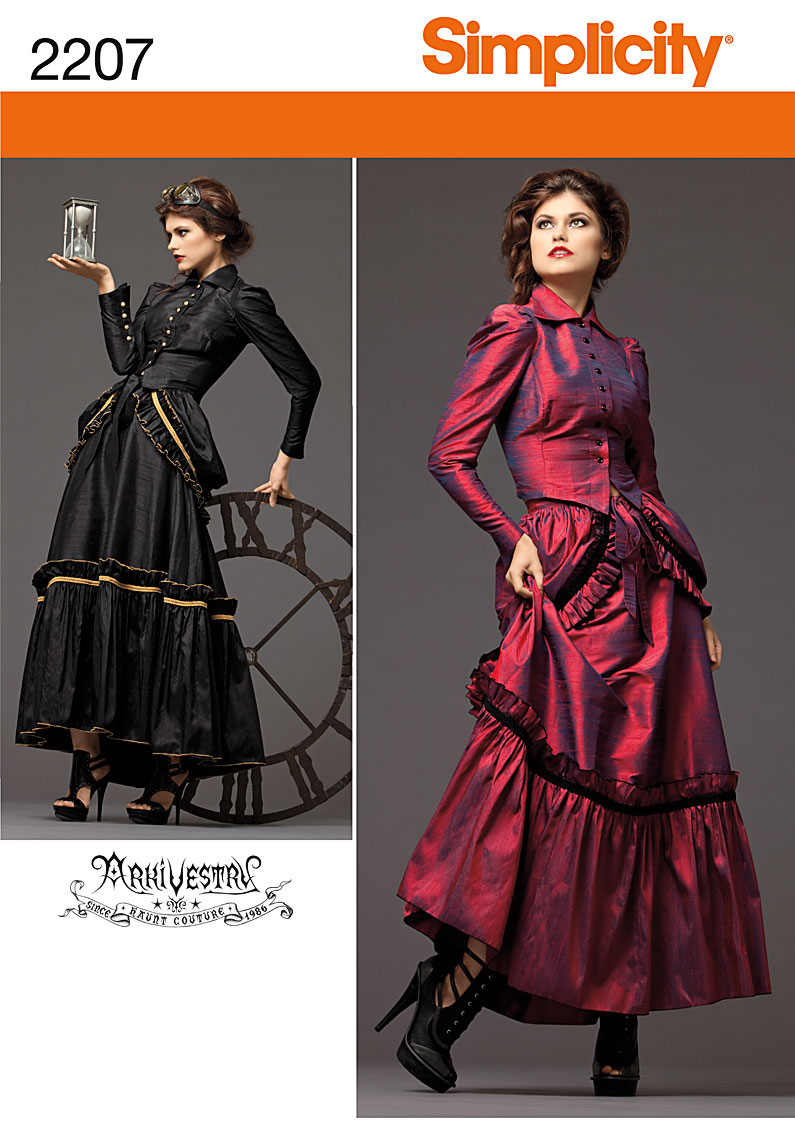 I am making it in black acetate taffeta and purple velvet ribbon for the trim. I appreciated the fact that the skirt has an elasticized waistband in the back, as my waist size has been in a state of flux for the past year. I didn't pay attention to the pattern instructions and ordered 3/8 inch ribbon for it. In hindsight, that will not show up as much as it does in the illustration. Since my color scheme is more muted, it may not make as much of a difference. I also ordered vintage black glass buttons for it. I was toying with the idea of using some clock faced buttons I have in my stash, but for my purposes, it's probably better to stick with a faux Victorian look than go full out Steampunk.
I have just started making it and already have an observation. The flounces and ruffles are designed to be finished using a serger or zig zag stitch. Since most of what I sew is historically correct reproduction clothing, I never bothered getting a serger. It would have come in handy big time for this. I zig zagged the edged once on the #6 width, which on the lightweight taffeta, ended up being more like a #2 width. I had to go over it a second time to make the color noticeable and to make the finished edge more secure. The single row of zig zagging felt like it could easily get pulled loose. Fair warning, you will need a lot of the contrast thread for this. I expect to go through 2 large spools, possibly more. I'm going to have to hand trim all the fuzzy edges off of it, too.
Come to think of it, I am in the mood for this general style, having watched the full series of Lark Rise to Candleford recently. The costuming in that was charming. The photo below doesn't do the costuming in general justice.
IF I have time, I will be making a late 1880s/early 1990s bonnet to go with it. I found the perfect pattern offered by
Lynn McMasters
. She has some very cool bonnet and hat patterns in general. If I enjoyed making hats (which I don't), I could have a field day with these.
And if I get really energetic, I would like to make the late 1880s coat from
Truly Victorian
. One of the characters in Lark Rise wore something similar to this made out of cotton velvet. It was worn over a bustle-less skirt, and the extra length included to cover a bustle draped quite prettily in the back.